For Further Investigation...into the wild city
Books
Lachmund, Jens. (2013)
Greening Berlin: The Co-Production of Science, Politics, and Urban Nature.
MIT Press.
Fullilove, Mindy. (2005)
Root Shock: How Tearing Up City Neighborhoods Hurts America, and What We Can Do About It Paperback.
One World/Ballantine. -


the devastating impact and enduring legacy of displacement through urban renewal on African-American communities


Other
Powered by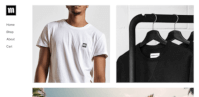 Create your own unique website with customizable templates.